Anaheim Hood Cleaning Pricing Guide for Restaurants & Hotels​
FREE INSTANT ONLINE QUOTE
Use our Instant Online Quote system for an immediate hood cleaning price quote.
Hood Cleaning Pricing: Comparing Top Companies in Anaheim
In order to provide our customers with the best possible hood cleaning service, we conducted a comprehensive survey of five reputable hood cleaning companies in the Anaheim area. These companies were carefully selected based on their proper licenses, insurance coverage, and adherence to the NFPA96 guidelines, ensuring their understanding of proper hood cleaning practices.
Selecting these five companies was no easy task, as we encountered numerous businesses that failed to demonstrate sufficient insurance coverage or lacked insurance altogether. The importance of insurance cannot be overstated: if choosing a hood cleaning company without adequate insurance, you assume liability for any damages they may cause during the cleaning process. Moreover, in the unfortunate event of a fire, if the fire marshal determines that the fire originated from the hood system, you will be held responsible.
Once we ensured that all the hood cleaning companies in our survey met the reputable standard, we turned our focus to comparing their pricing structures. It is worth noting that every hood cleaning business offers custom pricing quotes tailored to the specific needs and complexities of each kitchen. To facilitate this comparison, we created a hypothetical scenario that we refer to as our "restaurant avatar."
Our Restaurant Avatar:
A new restaurant preparing to open in Anaheim.
The restaurant is located in a strip mall.
It is a single-story building with a flat roof.
Convenient kitchen access through the back door.
Ample space to park a trailer or van in close proximity to the backdoor.
Easy access to a roof access ladder, with keys readily available.
One 12' hood requires cleaning.
Our property management company requires proof of $2 million liability coverage.
Using this avatar as a model, we engaged a virtual assistant to obtain pricing quotes from the selected companies. Throughout the calls, our assistant took note of any interesting findings, including the attitude and professionalism of the individuals she interacted with.
By conducting this survey and providing an in-depth comparison of hood cleaning pricing, we aim to assist our customers in making informed decisions about their hood cleaning needs. At Anaheim Hood Cleaning, we prioritize transparency and strive to deliver exceptional service at competitive prices.
Note: At Anaheim Hood Cleaning, we provide expert hood cleaning services that adhere to the highest industry standards. If you require a personalized quote for your specific kitchen, please don't hesitate to reach out to us.
Here are the survey results:
Hoodz International
LA Hood Cleaning
Facilitec West
Optimal Bio Fuels
Anaheim Hood
Cleaning
Website
hoodzinternational.com
lahoodcleaning.com
facilitec-usa.com
optimalbiofuels.com
anaheimhoodcleaning.com
Price
$650
$500
$700
$650
$500
Insurance
$2 mil Liability
$2 mil Liability
$2 mil Liability
$2 mil Liability
$2 mil Liability
Confirmed NFPA
Yes
Yes
Yes
Yes
Yes
Notes
Very hard to get a quote. Passed from operator to the second person, to the third person.
Professional on the
call. Wanted to make sure that I was fully taken care of.
VA said this would be her second choice.
Very hard to get a quote. Passed from operator to the second person, to the third person.
Had to wait 2 days for a call back. Nice guy though. Said that $650 was his minimum. Said that even a 4′ hood would be the same.
*Everyone surveyed said that these were ESTIMATES and could not be guaranteed.
Frequently Asked Questions (FAQs)
Do You Want a Great Quality Hood Cleaning at a Competitive Cost?
At Anaheim Hood Cleaning, we believe that cleanliness is key to a successful and healthy kitchen. That's why we offer a comprehensive range of hood cleaning services, designed to keep your kitchen in top condition. Our team of experts has years of experience in the industry and is fully trained and equipped to handle any cleaning job, big or small.
Our hood cleaning service includes:
Inside & Outside Hood Cleaning
Thorough Cleaning of Hood Filters
Rooftop Exhaust Fan Cleaning
Complete Duct Cleaning
Rooftop Grease Containment Trap Emptied & Cleaned
Spot Cleaning the Rooftop Area Around the Turbine
Final Polish of Interior & Exterior of the Hood
Final Polish of the Back Splash
Mopping of Floors in the Entire Area
Digital Before/After Pictures
Fire Marshal Approved Service Sticker
We offer flexible scheduling, so you can choose a time that's convenient for you. We understand that kitchen cleaning can disrupt your business, so we work quickly and efficiently, causing minimal disruption to your operations.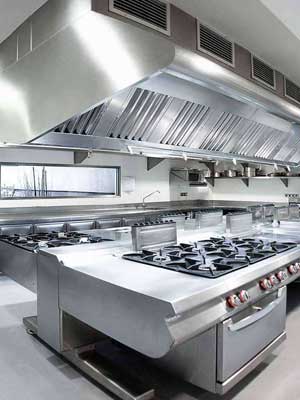 Service Area
In addition to Anaheim, we also serve Santa Ana, Orange, Garden Grove, Fullerton, Buena Park, Stanton, Cypress, Cerritos, and more.

Anaheim Hood Cleaning is Completely Licensed & Insured to do Cleanings throughout the Orange County Area.
We always provide 100% customer satisfaction.
Our professionals are experts in hood cleaning. We will do everything possible to make sure your project goes smoothly. Call us today for a free estimate on-site!